By Mary Klaus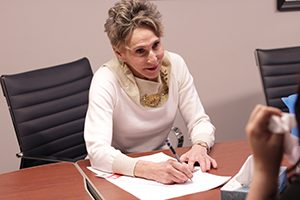 When a single Jewish mother named Beth needed help in paying for school supplies and clothing for her children, she turned to Jewish Family Service.
When Seth and Rivka relocated to Harrisburg, they had trouble finding their place in the Jewish community and they came to JFS in need of a place to stay and a few weeks' worth of groceries.
When Bill needed support so he wouldn't end up living on the street, he sought out help from JFS.
JFS, the Jewish community's mental health and social service agency, has for years helped people achieve their full potential while honoring choice, diversity, and Jewish values.
Nearly two years ago, JFS added a Mental Health Case Management Program, known as "Project Lift," to help clients find their way through the social services maze and also to help fulfill some of their practical needs. The project offers short-term, personalized interventions.
Barry Stein, JFS executive director, says Project Lift lives up to its name. "Project Lift allows our mental health liaison and case manager, Elaine Strokoff, to provide support, referrals, and advocacy to people who come to us in need," Barry said. "The program focuses on, first and foremost, matching people with what they need, rather than offering financial assistance. It's a broker rather than a bank."
Strokoff calls Project Lift an urgent care center for social services, a place to help those who might "fall between the cracks" of the social services network. She helps people find therapists for mental health needs, caregivers for child or elder care, entitlements for ongoing financial support, and everything from housing to food for basic needs.
"Everyone should have food, clothing, and a roof over their head," said Elaine, who has spent more than two decades providing just that to the Harrisburg area's homeless and hungry. "I help people find resources you can't see, like therapy, and what you can see, like food and clothing. I also give emotional support and provide advocacy as necessary. I care about each person we help."
Project Lift began in April 2017 through generous support from Alyce and Morton Spector and Connie and Gail Siegel. Subsequently, a grant was awarded by the Martin M. Sacks Memorial Fund of The Foundation for Enhancing Communities (TFEC) to extend these donations through the end of last year. As of the close of last year, Barry says that Project Lift has helped 78 people, and at least partially resolved 66 of the presenting issues. Now, Project Lift is poised to continue its provision of these essential services through generous donations from numerous other supporters.
The program, which began as a pilot program, is now being extended for the foreseeable future thanks to gifts made by Principal Supporters Michael Brenner, Bennett and Inez Chotiner, Michael and Ellen Geduldig, Peggy Grove, Bill Lehr, Harold Rabin, Daniel and Patty Schwab, and The Dorothy B. and S. Lawrence Koplovitz Foundation, as well as Supporters Erick and Robyn Chotiner, Jay and Nancy Krevsky, and program facilitator Elaine along with her husband, Elliot Strokoff.
Elaine said the project helped Beth, the single mother, by matching her with a caseworker who helped her work on her budget, showed her how to get supplemental income and helped her figure out balancing the demands of her life. JFS also helped her figure out child-related expenses and told her about the JFS Food Pantry.
Project Lift helped Seth and Rivka find housing, furniture, and legal counsel to deal with an outstanding financial matter. It kept Bill from living on the streets.
"We give a lift to people at a time they need it most," Elaine said. "It's not on-going, but short-term, lasting from a week to a couple months. I stay with them until they are on solid ground. Our clients feel like there is someone there for them."
Sometimes, JFS clients need short-term financial help such as money for rent, car repairs, medicine, children's winter clothing, electric bills, or job training. When that happens, Elaine can turn to the "Back on Track" fund, provided by the Geduldig family and other budgeted resources to relieve short-term financial crises.
The bottom line, Elaine said, is that Project Lift "gives people a little extra help while allowing them to retain their dignity and move on with their lives."
####
NEED HELP? Contact Elaine Strokoff, JFS service coordinator and development associate, at 717-233-1681 or estrokoff@jfsofhbg.org.
WANT TO HELP? Make a donation to Jewish Family Service of Greater Harrisburg, 3333 N. Front St., Harrisburg, PA. 17110, attn: Barry Stein.