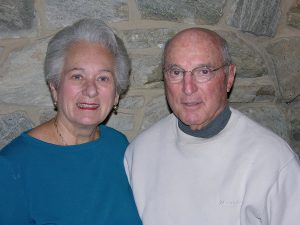 Bob Gaynes has done a lot of fundraising in his life, for all types of organizations throughout the community. And through those years, he's come to a realization. "People give to people, not organizations," he says. "I believe in one-on-one. If you want to fundraise, you have to go see people."
Because of that belief, Bob and his wife, Gail, created a challenge gift designed to boost fundraising efforts at Jewish Family Service. As a result of the Gaynes' generosity, as well as those that stepped up and matched their gift, JFS was able to hire Elaine Strokoff to specifically spend time on development and cultivation of donors.
"Bob and Gail are both very committed to this community and have been loyal supporters of this agency," says Barry Stein, JFS Executive Director. "They have shown their compassion and caring again and again over the years. They truly walk the walk."
Through the power of this gift, Elaine was able to generate more than $10,000 dollars in new commitments and gifts to JFS, supporting valuable social services for people through every stage of life.
"They help numerous children, families and individuals who have needs," Gail says. "Everything they do is so important to the whole community."
Bob and Gail are pleased with the work of Elaine and JFS and hopes that they can continue to offer their services. "We thought her position was important," Bob says. "They can't do it without the money. We want to support them in their efforts to do more."