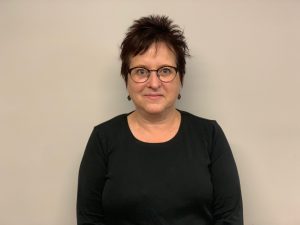 Jewish Family Service is excited to introduce Pam Haddad, our new Family Based Mental Health Therapy Program Director.
Pam brings decades of experience working with parents and children to the table. In her role, she will work with teams of therapists to ensure that children and families are receiving effective and appropriate care.  In addition, she will be responsible for handling the administrative duties of the program.
Family Based Mental Health Therapy is an approach that looks at a complex combination of factors that may cause disorder in children. "It looks at the roots of where the problems are," says Pam. "Family based workers are trained to look at a lot of aspects, but specifically look at what is going on in the child's world, including school, community, siblings, parents, extended family, and friends. It's more comprehensive than simply looking at the behavior." This approach uses an intensive in-home intervention aimed at reducing extended out-of-home placements in residential or psychiatric settings.
Along with Pam, JFS has hired three new Family Based Mental Health Therapists, with one additional therapist already on staff. The program uses teams of therapists to work with children and families.
"The folks that JFS has hired are very experienced," says Pam. "It will be my job to help them fit into the family based model and work effectively as teams."
Pam says that she hopes to grow the program to include more teams and to increase her staff's understanding and confidence of the program. "I would like to find ways to be more innovative and successful with families," she says.
In addition to her work with JFS, Pam is the founder of a nonprofit, Samara, and runs a small private practice. She is married and recently celebrated the birth of her first grandchild.