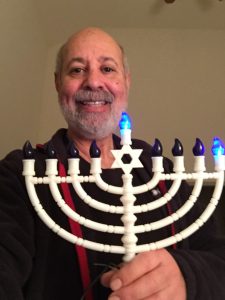 I moved to Harrisburg in 1996 with my wife and two daughters. I was always involved with my synagogue, Temple Ohev Sholom, and our rabbi suggested that I would be a good fit to get involved with Jewish Family Service.
JFS is an agency of good deeds. They are dedicated to doing good works and repairing the world and making it a better place to live in, not just for Jews, but for everyone. That is 100% JFS' mission.
I think the Legacy Initiative is brilliant in that it creates an opportunity to support institutions even if you're not in the position to do so now. You can still support them in the long run.
It's a beautiful thing as a parting gift to your community. I think making a legacy gift is a statement in and of itself. When you leave something in your will and your loved ones see that, it sends a message to them that this was something important to you and that you want them to continue that.
We are a community of individuals, but it is the institutions that are the beating heart of the community. As the President of the JFS board, it seemed to me to be a no-brainer. We as Jews no longer make a pilgrimage to the Temple for festivals. Instead, we now have an obligation to make financial sacrifices to maintain the community. It's just part of being a Jew.
Be remembered forever by Jewish Family Service– leave a gift through your will, trust, retirement account, or life insurance. Click here for more information.