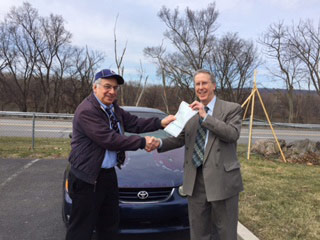 A wonderful and easy way to support Jewish Family Service of Greater Harrisburg is through our car donation program.  If you are disposing of your present vehicle, don't trade it in, donate it to JFS!  You will be supporting vital programs and services for families, children, and older adults in need.
Donating your car is easy. All you have to do is call 877-537-4227 and our driver will pick up your vehicle from your home, business or repair shop. Almost all cars are accepted – even if your car has engine trouble.  Your donation may be tax-deductible (see FAQ below).
Frequently Asked Questions
Does my car have to be running to qualify for donation?
Your car does not need to run, but it must have an engine and be towable. Cars that are in extremely poor condition or out of our tow range may be declined, as the cost to tow them may be more than the value of the vehicle. Call our representative to find out if your vehicle qualifies.
---
What paperwork do I need?
The only paperwork needed is a signed title (pink slip). Our driver will provide you with a Release of Liability, which must be completed by the donor and mailed to the DMV within 5 business days of donation.
---
What if I lost the title (pink slip)?
Our driver will give you an Application for Duplicate Title form to complete at the time of pick up.
---
Do I get a receipt for my donation?
Yes. Our driver will issue a receipt at the time of pick-up. This is not your final tax receipt. The initial acknowledgement will indicate your name, the year, make and model and the condition of the vehicle you are donating. A final acknowledgement will be mailed to you within 30 days of the sale stating the amount of gross proceeds received from your vehicle. This will be your receipt for your charitable, tax deductible car donation.
---
What can I claim as a deduction?
If the claimed value of the donated vehicle exceeds $500, the taxpayer is limited to the gross proceeds of the sale.
---
What if my car is valued over $5000?
Effective January 1, 2005, you will no longer be required to have vehicles appraised. The amount of gross proceeds received from your vehicle is the value you are allowed to claim.
---
What does our organization do with donated vehicles?
Vehicles are sold at private auction. The funds from vehicle donations are used to support the programs and services of Jewish Family Service. Your donation will go directly to help fund vital programming for those most in need in our community.
---
How quickly can my vehicle be picked up?
Vehicles are picked up at a time that is convenient for you. Call our representative to find out the available times in your neighborhood.