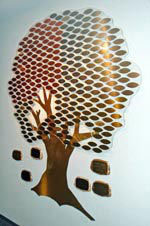 The Tree of Life in the lobby of JFS symbolizes the strength and hope that we offer to all in need of assistance.
Celebrate a special person's birthday, anniversary, bar or bat mitzvah, the birth of a grandchild, an outstanding achievement, or memorialize the loss of a loved one by adding a leaf to the tree.  Leaves can be purchased and engraved with the honorarium or memorial message of your choice. Leaves can be purchased in denominations of $180, $360, $540, and $1,000. Funds raised can go to the program of your choice or the area of greatest need.
For more information, please call us at 717-233-1681 or email. All contributions are tax deductible.
Purchase a Leaf