Jewish Family Service is committed to providing financial support and needed services to those individuals and families who are struggling physically, mentally, and financially.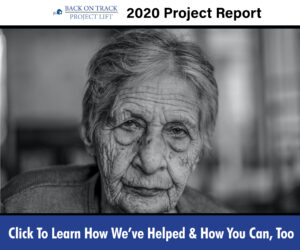 Back on Track, offers emergency financial support to individuals and families who run the risk of "falling through the cracks," due to short term financial problems. These emergency problems can often be eliminated by a "lift" in the form of a minimal one-time offer of financial support. Back on Track can make the difference between a person keeping his house or becoming homeless; getting to work with a reliable car or losing a job; or paying for childcare rather than missing critical doctors' appointments.
Project Lift, connects individuals and families with JFS services as well as with those provided by other social service organizations.  These services can benefit those who may already be in the JFS system as mental health therapy clients, but could also benefit from a "lift" of additional social services.  These programs target initiatives such as domestic abuse, legal issues, and substance abuse. Project Lift, does just what the name implies. It gives individuals the additional lift they may need to live a fulfilled life as a productive member of society.
For more information on Financial Assistance, call 717-233-1681.
Financial Assistance & Case Management